Used Hydrobike Water Bikes For Sale: See Listings Below!
*For New Hydrobikes, contact John at 1-888-403-9012, or by email at john@hydrobikes.com with questions or to order.  
SOLD! posted January 28, 2023; Four Hydrobike Explorers For Sale, Orlando Florida area
*3 are brand new, never been used, 1 in excellent condition, and has been used for one season.  All purchased in October 2021.  Asking $2000 each, or best offer.  Contact Nanny at 941-592-2887, or by email; nanny.aguirre@ymail.com
~~~~~~~~~~~~~~~~~~~~~~~~~~~~~~~~~~~~~~~~~~~~~~~~~
SOLD!  posted December 15, 2022; 4, Hydrobike Explorers For Sale, Alabama
2 units were purchased in 2016, priced at 1200.00 each.  2 units were purchased in 2021, priced at $1800.00 each.  Good working condition.  Handlebars are rusty but can be replaced for $30.
For pickup in Point Clear, Alabama.
Contact Daphne, Daphne.Tyson@grand1847.com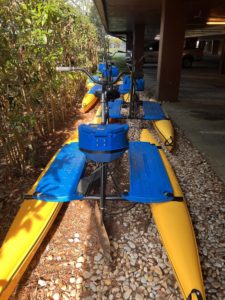 ~~~~~~~~~~~~~~~~~~
SOLD! 

posted December 4, 2022;
Two
Hydrobike Explorers For Sale, Florida
Two Hydrobikes for sale, both are in great condition and located in Pinellas County, Florida.  Selling both as a set for $3000.00 firm.  Pick up in person, or local only delivery available.
Contact Brad at (727) 400-1078
~~~~~~~~~~~~~~  *See More Used Hydrobikes For Sale Below*
SOLD!  posted August 12, 2022;  4, 2 HYDROBIKES, Excellent Condition, Only 2 Years Old. 
SAVE $1000!  $1500.00 each.  
Tavares, FL (hr. north of Orlando)  Contact Katrina @ 352-217-5012, adventureoutdoorpaddle@gmail.com
*available for pick up only*
---
posted June 8, 2022;  2015 HYDROBIKE, Excellent condition. $1500.00.  SOLD!
Never left outdoors, kept in garage, barely used the past 4 years.  Brand new crossbars.  Chain lubricant included.  Contact;  Bill Radich, 778 Wagon Bend Rd., Berthoud CO. 80513, PH: 952-240-5038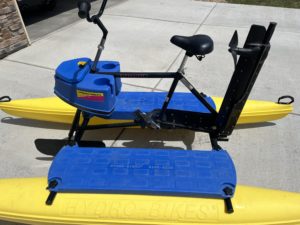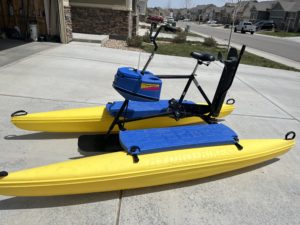 4 LIKE NEW HYDROBIKES, USED LIGHTLY ONE SEASON  SOLD!
Well maintained, stored indoors.  Located in Watrous, Saskatchewan Canada (one hour south of Saskatoon)
1950.00 CAD each, or all 4 at 1900.00 each
~~~~~~~~~~
5, 2020 HYDROBIKES FOR SALE IN TEXAS  SOLD!
Posted April 24, 2021.  Hydrobikes For Sale in Texas.  2020 Hydrobikes; 2 Brand New Hydrobikes in factory boxes at $2200 each.  Along with 3 slightly used 2020 Hydrobikes at $1800.00 each.   Contact Larry at 817 933 0589.  Located in Glen Rose TX for pickup.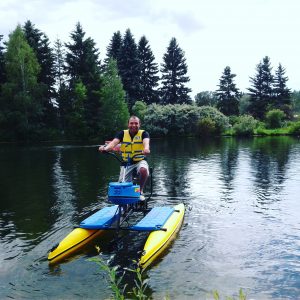 ~~~~~~~~~~~~
Missouri, 8 Used Water Bikes for sale @ $1999 each; *10% off on 2 – 5 water bikes purchased, and 20% off for orders of 6 bikes.  SOLD!
3, Used Hydrobike Explorers For Sale, $1850 Each SOLD!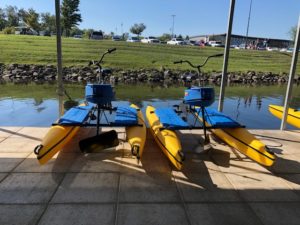 Used Hydrobike Explorer Tandem Water Bike For Sale, (double seater) $3900  SOLD!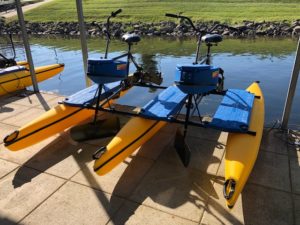 Used Hydrobike Angler Water Bikes For Sale, (2) 2100 Each SOLD!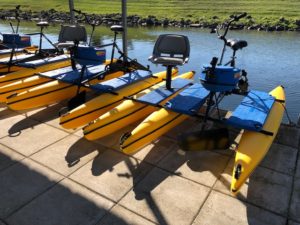 ……………………………………………………………………………………………
 Hydrobike Water Bikes For Sale in Edmonton Canada  SOLD!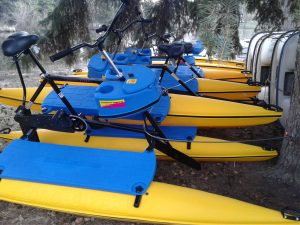 Like new 2018 Genuine Hydrobike Explorer for sale.  Made in the USA.  Used as rentals for only one season.  Excellent Condition.  12 Hydrobike water bikes for sale.  Asking 1700 USD, or $2000 CAD each.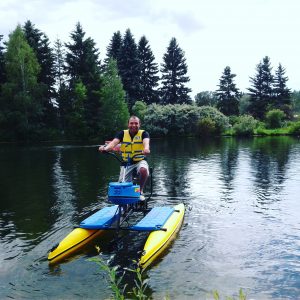 This 2002 used Hydrobike water bike just came in from Craig;  SOLD
Used older water bike in good condition (always stored indoors during the winter).  Includes storage console with drink holder.  Asking $1750 or best offer (does not include shipping).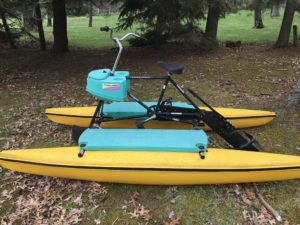 Hydrobikes are the world's # 1 selling water bike.  They are legendary for long life and troublefree operation.  They can last a few decades if taken care of.  20 year old Hydrobikes can still have a lot of life in them.  Many original Hydrobikes dating back almost 30 years are still gracing water ways.
Contact me at 1-888-403-9012, or john@usedhydrobikes.com for savings on previously owned Hydrobikes.  All come reconditioned with warranty.  Starting at $1800 USD.
*For new Hydrobikes;
USA: www.hydrobikes.com, www.hydrobikesontario.com
Canada: www.hydrobikes.ca
Hydrobike Parts:  www.hydrobikeparts.com